REGISTRATION OPEN | February 25-27, 2016 Seminar for Department Chairs
The Seminar is open to chairs/heads at CCAS member institutions. Due to space limitations, no more than two chairs from the same institution will be admitted. The first 40 registration requests will be accepted; additional requests will be wait-listed in order of receipt. Click here for program schedule and register by hovering over EVENTS in the navigation bar, clicking Seminar for Department Chairs – FEBRUARY 2016 and creating a customer account.
---
Election Results Announced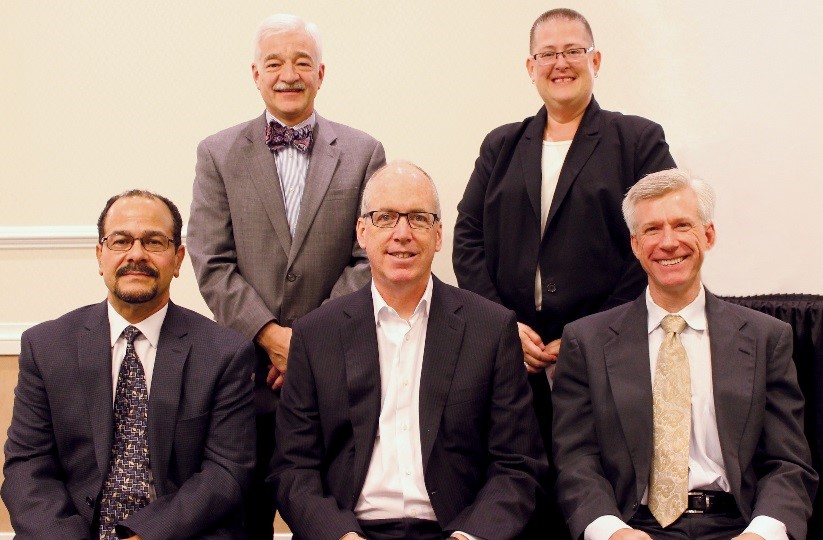 At the Annual Meeting in Washington, D.C., the membership elected four deans to positions as Term Representatives on the CCAS Board of Directors, Class of 2018. David Manderscheid, Executive Dean and Vice Provost, College of Arts & Sciences at The Ohio State Univ, was chosen as the President-Elect. Those elected (from left to right) are Luis Falcón (Univ of Massachusetts Lowell), John Stalvey (Univ of Alaska Anchorage), David Manderscheid, Julia Johnson (Univ of Wisconsin, La Crosse), and Bret Danilowicz (Oklahoma State Univ). Those completing their service on the Board were Nancy A. Gutierrez (Univ of North Carolina at Charlotte), Joyce Taylor Gibson (Lewiston-Auburn College, Univ of Southern Maine, and Pat Mosto, Rider Univ). Thanks to everyone for stepping up to represent their fellow CCAS members.
---
Arts & Sciences Advocacy Award Given to David J. Skorton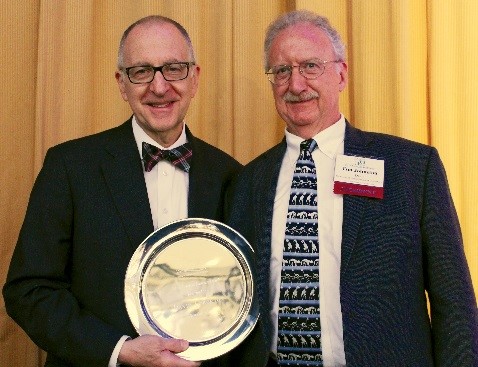 CCAS has recognized David J. Skorton with its 2015 Arts & Sciences Advocacy Award. The announcement was made November 6 at the organization's 50th Annual Meeting in Washington, D.C. The CCAS Arts & Sciences Advocacy Award honors an individual or organization demonstrating exemplary advocacy for the arts and sciences, flowing from a deep commitment to the intrinsic worth of liberal arts education.
In presenting the award, CCAS President Timothy D. Johnston, Dean of Arts & Sciences at the University of North Carolina at Greensboro (at right in photo), announced that CCAS was honoring him for being a "tireless and effective advocate for the benefits of a liberal arts education." Skorton, a cardiologist by training, served previously as president of the University of Iowa and most recently at Cornell University. This past July, he assumed the position of Secretary of the Smithsonian Institution.
In accepting the award, Skorton thanked the Council and told the 500 assembled deans that he "strongly believes that an education in the liberal arts is essential and can transform individuals and society for the common good." Further, he "pledged to continue to champion these endeavors that are so central to our shared humanity. The colleges of arts and sciences are absolutely critical in our shared journey to understand and to inspire." See the full story

here

.
---
"Selling the Value: Positioning Colleges of Arts & Sciences in a Pre-Professional-Focused World
Last year's annual meeting featured a popular workshop on this title, presented by Elizabeth Scarborough, CEO and Partner of SimpsonScarborough, a higher-education marketing firm. Elizabeth was generous enough to allow us to post her presentation. It is available for viewing by CCAS members (login required). Click on DKB under RESOURCES, then search under Selling the Value.
---
The Phi Beta Kappa Society launches a new toolkit,
CCAS members are encouraged to use these helpful advocacy materials.
---
2015 CCAS Membership Directory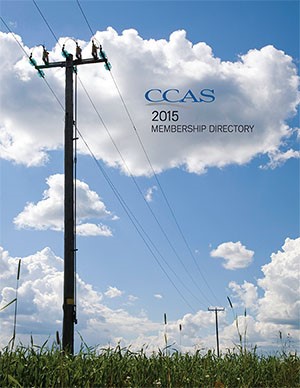 The directory has been posted on the CCAS website and an active link, as well as a search link, is located on the member Welcome Page and under MEMBERS ONLY in the blue navigation bar when you log in to the CCAS website using your membership credentials. If you need assistance or would like a copy mailed to you, please contact us at ccas@wm.edu.
---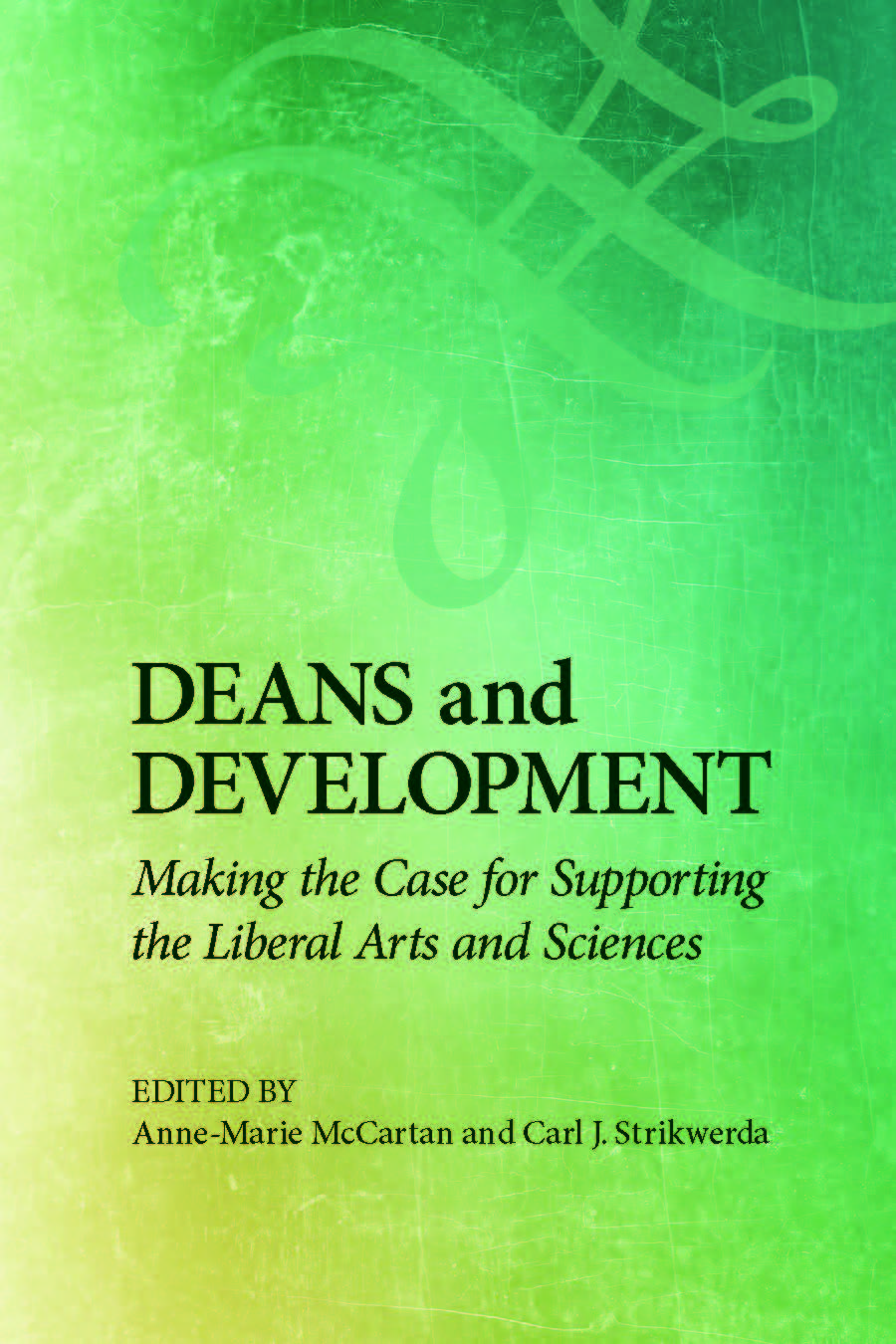 CCAS Book on Deans and Development
A complimentary copy of Deans and Development: Making the Case for Supporting the Liberal Arts and Sciences has been mailed to each CCAS member dean.
Additional copies may be purchased by CCAS members for $10 each (non-memb
ers $30) by going to the Publications tab in the navigation bar and clicking Deans and Development Book and then "Order Form" on the flyout menu.
---
Visualize the expanse of CCAS members nationwide and internationally on our three locator maps:
---
Guide for assessing best practices in colleges/schools of Arts & Sciences
The CCAS Board of Directors offers it members the Standards of Practice: A Self-Assessment Guide for Colleges/Schools of Arts & Sciences. The Standards were developed to help deans evaluate whether their colleges or schools maintain policies and practices that align with the best practices and standards in higher education. The Standards are not intended to be prescriptive; rather, they serve as constructive guidelines to deans as you with work within the context of your own institution.
The Standards and accompanying Scoring Rubric are available to members of CCAS. L
og into this page (above, right), then, under Resources, hold your cursor over
Standards of Practice
,
and click "A Self-Assessment Guide" to download the document or "Scoring Rubric," which is an Excel-based tool to assist you in conducting a systematic analysis of your policies and practices. Hard copies also are available upon request.
Non-members who wish to view the
Standards
and take the self assessment are welcome to join CCAS. Write us at ccas@wm.edu for a membership application.
---
"Liberal Arts & Sciences FAQs" brochure available for purchase
This broc
hure, authored by former CCAS President Matthew C. Moen (University of South Dakota), defines liberal education and offers arguments for its centrality in undergraduate education. The brochure is being made available at cost to CCAS members.
Ordering Information:
First 10 copies, no charge to members

Between 11-100 copies, $6 per 10 copies

Orders over 100, $5 per 10 copies
Order by going to the Publications tab in the navigation bar and clicking "Liberal Arts and Sciences FAQs Brochure - Order Form."
---
Council of Colleges of Arts and Sciences, a network of deans, fosters leadership and administration in colleges and schools of arts and sciences. In pursuit of our mission, CCAS connects deans with each other, provides professional development, serves as a forum for discussing issues in higher education, and advocates for liberal learning.
All arts and/or science decanal staff of a participating college within an institution are eligible for the following benefits:
• password and access to the 'Members Only' area of the CCAS web site
• a variety of professional-development seminars, workshops, and webinars
• discounted registration fees at seminars and the Annual Meeting
• discounted subscription rate for
Change
Magazine
• a mentoring program for new deans and associate/assistant deans
• participation in both the data collection and receipt of the New Hires Survey report
• a 'deans only' listserv for discussion of issues and networking with other Deans,
and a listserv for associate and assistant deans
• an online searchable database (Deans Knowledge Base) of timely presentations, policy statements,
listserv discussions, and other resources
• training workshops for department chairs/heads, either on campus or at a regional location
• access to the CCAS membership mailing list for searches, college newsletters, etc.
NOTE: Passwords are assigned to member Deans, Associate, and Assistant Deans. If you do not remember your login credentials, click "Forgot your password?" under the login boxes at the top right of the CCAS homepage and you'll be asked to enter your email address. Then click, "Send Login Information." The
website will email your login credentials shortly. If the website doesn't send you your login information it is because your email address either isn't in the database or is different from the one in the database.
For assistance, email
ccas@wm.edu
.
Click
here
to access the "Member Benefits and Services" brochure.