Liberal Arts Advocacy
Current media championing the liberal arts and sciences
CCAS CO-SPONSORS THE NHA ANNUAL MEETING &
HUMANITIES ADVOCACY DAY MARch 8-10, 2020


NHA Annual Meeting and Humanities Advocacy Day Registration
Registration for the NHA Annual Meeting and Humanities Advocacy Day, March 8-10, is now open to NHA members.
We are pleased to announce that we are extending the Annual Meeting this year to include programming on Sunday afternoon, March 8. Sunday's program will begin at 1 p.m. and include a variety of workshops centered on strategies for recruiting undergraduates to the humanities. On Monday, March 9, we will explore approaches to documenting and communicating the impact of the humanities work. We will also prepare for our visits to Capitol Hill and year-round engagement with Congressional offices.
Tuesday, March 10, is Humanities Advocacy Day, when state-based delegations will meet with their Members of Congress to urge increased funding for humanities programs. We will schedule the Hill meetings for each delegation in the weeks preceding the event.
Please take a moment to register now at a discounted early registration rate. To secure the discounted rate for members, enter Member2020 when prompted for a coupon code. We will launch registration to our big list of advocates tomorrow.
Sponsorship for the NHA Annual Meeting and Humanities Advocacy Day
Thank you to all of our members who have signed on as sponsors. Your discount code for registering for the NHA Annual Meeting can be found in your sponsorship confirmation email.
If you have not yet done so, please help us build support for the humanities by signing on as a sponsor of the NHA Annual Meeting and Humanities Advocacy Day. As a sponsor, your organization is asked to make a contribution of $750 (Silver Level) or $1500 (Gold Level) to help defray direct costs associated with the event. Sponsors will be recognized in the event program, listed on the NHA website, and announced at the Annual Meeting. Sponsors at the Silver Level will receive one complimentary event registration. Sponsoring organizations at the Gold Level will receive two complimentary event registrations.
NHA Annual Meeting Accommodations
The NHA Annual Meeting will be held at the Washington Court Hotel, chosen for easy access to the Capitol Hill reception and Humanities Advocacy Day meetings. We have secured a discounted rate for a block of rooms and filling the room block helps us keep costs for the meeting low. Please book your room at the conference rate here. The deadline for booking is February 14th.
Humanities Advocacy Day Strategy
In prior years, many of our scholarly society members have recruited their members from strategically important districts or states where we lack advocates. As we determine these needs in the coming month, we will distribute a list of key states. Thanks in advance for your help.

cossa social science advocacy day, march 30-31, 2020
Save the Date for Social Science Advocacy Day 2020, which will take place in Washington, DC on March 30 & 31, 2020!
Details will be posted here as they become available: https://www.cossa.org/event/2020-advocacy-day/

Preliminary Schedule
Monday, March 30, 2020 | 750 1st St NE
1:30 pm – 2:00 pm Registration
2:00 pm – 5:00 pm Keynote/Kickoff Speaker & Advocacy Training
5:00 pm – 7:00 pm Celebration of Social Science Rooftop Reception

Tuesday, March 31, 2020
8:00 am – 9:00 am Breakfast
9:00 am – 10:00 am Final Preparation for Capitol Hill Meetings
10:00 am – 5:00 pm Congressional Meetings
Hotel Information
We are pleased to offer Advocacy Day participants a special block rate of $276 per night for the nights of March 29-31 at the Hilton Garden Inn Washington DC/U.S. Capitol (1225 First Street, NE), a nine-minute walk from our Advocacy Day training location and home base. Use this link when booking or book by phone using the group code C3 or Consortium of Social Science Associations.

Sponsor Advocacy Day
Sponsors help COSSA to defray the costs of our Advocacy Day, while providing organizations with additional visibility among colleagues in the social and behavioral science and higher education communities. COSSA is offering a variety of sponsorship packages this year, including the ability to get up to two free Advocacy Day registrations as well as the option to sponsor specific items and events, such as a our evening reception or our popular "I ❤ Social Science" giveaways. Check out our 2020 sponsorship opportunities.

Advocacy makes a difference
June 26, 2019
National Endowment for the Humanties (NEH) funding bill passed in the House.

Humanities advocacy day success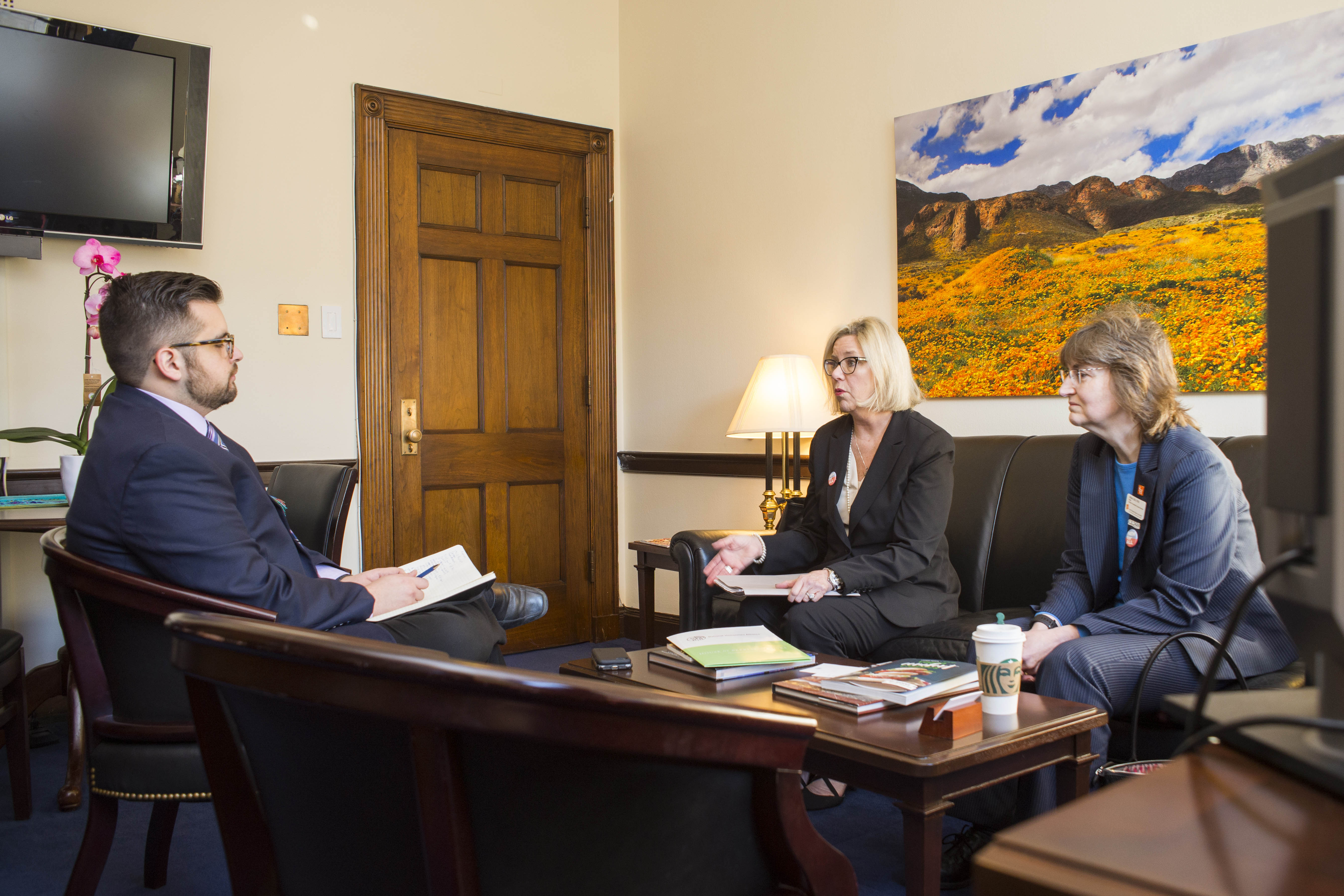 March 29, 2019
Nearly 200 humanities advocates gathered in Washington, D.C. to make the case for federally-funded humanities programs on Capitol Hill and it worked!

Social Science Policy NewS
March 2019
COSSA's March headlines and deep dive on the Trump Administration's budget request for fiscal year 2020: webchat and slides
Guide to Issues in Humanities Advocacy
http://4humanities.org/guide-to-issues-in-humanities-advocacy/
An interesting website worth exploring. It's organized into three main sections:
• Core Issues in Public Discourse on the Humanities
• Theory and Practice of Activism
• Creating a Humanities Advocacy Media Plan

AAC&U Webinar
Strategies for Communicating the Importance of Liberal Education
https://www.aacu.org/webinar/communicating-liberal-education
Access to a recording of the webinar requires user ID and password for AAC&U members.
Even without access there are links to handouts and the slides from the webinar that are informative.

THE STATE OF THE HUMANITIES 2018:
GRADUATES IN THE WORKFORCE AND BEYOND
January 2018: http://bit.ly/HIWorkforce2018
Study the humanities
A new website featuring qualitative and quantitative data on the value of
studying the humanities as an undergraduate: https://www.studythehumanities.org/

Phi Beta Kappa
http://toolkit.pbk.org
Good talking points (although some references are out of date and one study that has been questioned based on flawed methodology).
IN DEFENSE OF THE (LIBERAL) ARTS
The NPR podcast 1A devotes this episode to asking "what's the purpose of liberal arts colleges today? Are they changing to meet the needs of a twenty-first-century student?
https://bit.ly/2w5HfBu
ARTICLES (News, Esssays, Advice, Opinions, Briefs)
Liberal Arts Is the Foundation for Professional Success
in the 21st Century
August 2017: http://bit.ly/2NvigiJ

EMPLOYERS RATE CAREER COMPETENCIES, NEW HIRE PROFICIENCY
December 2017: http://bit.ly/2u2DyMq

JOB OUTLOOk: THE ATTRIBUTES EMPLOYERS WANT TO SEE
ON NEW COLLEGE GRADUATES' RESUMES
Updated for 2018: http://bit.ly/2NxWcE3

Falling Short? College Learning and Career Success
2015: http://bit.ly/2KYRE7W

your students learn by doing, not by listening
May 2018: https://bit.ly/2wctJit
what really makes a 'High-impact' practice high impact?
May 2018: https://bit.ly/2kCJ9nD
As the future of work looms, more universities offer
life-long learning programs
May 2018: https://bit.ly/2joUMhs

COLLege promise initiatives encouraged to incorporate
new strategies
April 2018: http://diverseeducation.com/article/115537/

3 vital ways to measure how much a university education is worth
April 2018: https://bit.ly/2w7m851

if you want your child to succeed, don't sell liberal arts short
March 2018: http://on.wsj.com/2oElupc
WHY NURSES NEED LIBERAL ARTS
February 2018: GoDanRiver_BHMediaGroup
Microsoft's President Says Liberal Arts Majors
Are Necessary for the Future of Tech
January 2018: http://read.bi/2DxgFrm
The skills that Google's most valuable employees share—
and what they mean for students
January 2018: https://goo.gl/qTB1GW
Liberal Arts in the Data Age
August 2017: https://hbr.org/2017/07/liberal-arts-in-the-data-age
what is a liberal arts degree & what can you do with it?
June 2015:
The Liberal Arts and the Making of T-Shaped People
Fellow CCAS member Guillermo Vasquez de Velasco's TEDx Talk.