Discussions for Deans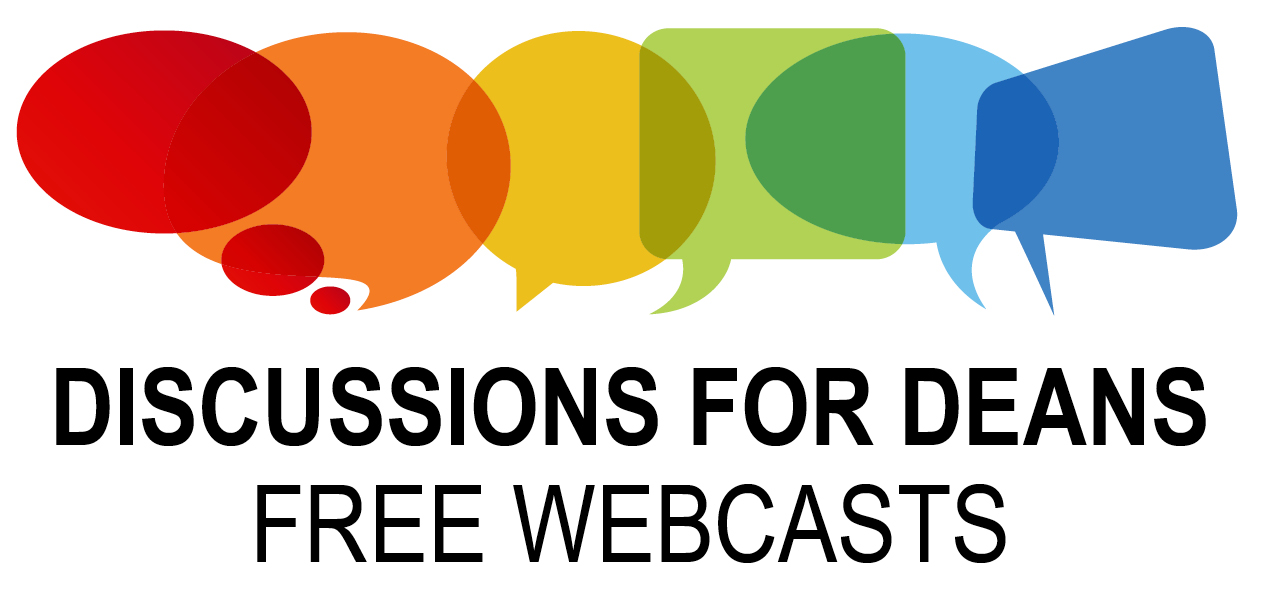 CCAS has organized a series of free online discussions for the CCAS community to help support and guide us through this hectic time; no registration needed

NOTE ABOUT RECORDING: Unfortunately, we cannot record the discussions in order to ensure a safe environment within which all can participate. Many deans are precluded from being recorded and additionally, we need to provide a space for candid discussion and reflection.

Check back for upcoming discussions!

Recent Topics Include

Public Comprehensive Universities in a Time of COVID-19
Never Let a Good Crisis Go to Waste: How the COVID-19 crisis is pushing liberal arts programs to cultural and institutional innovation
Communicating with Faculty: How Much is Just Right?
Taking the Writing Center Online
Research Active but Minimizing Contact in a Time of COVID-19
Performing and Visual Arts-Mitigation strategies for Online Lessons, Ensembles, Recitals, Juries, Exhibition
Small and Private Institutions in a Time of COVID-19
Transitioning Adjunct Faculty During the COVID-19 Pandemic
Deans' Mental Health in the Time of COVID-19
Showcasing the Public Value of Higher Ed Through the Humanities
Engaging Faculty Over the Summer (Off Contract)
Long Range Planning for 2020 and Beyond
Laboratories and Computing Technologies in the Time of COVID-19
Development from a Distance in the Time of COVID-19
The Future of the Arts & Science in the Time of COVID-19
Lessons Learned from an Anti-Black Racism Event
Anti-racism Messaging for Colleges
Transitioning Science and Lab Courses Online for Summer and Fall
Making Difficult Budget and Financial Decisions for Summer and Fall
Accreditation in the Time of COVID-19
Appreciative Supervision Approaches for Deans
National Survey of Students— Understanding the Potential Impact for Fall 2020
Recruiting Students in the Humanities: New Data, New Strategies and New Challenges
Managing Budget and Course Offerings at Public Institutions
Curriculum/Program Development in the Time of COVID-19
Anti-racism Messaging to/for Students (An HBCU Perspective)
Supporting Chairs While Planning for an Uncertain Fall
Recruitment and Retention of BIOPOC Faculty & Staff
Deans & Development Directors, Working Together in the Time of COVID-19
Interim Deans During the Time of COVID-19
Unique Challenges and Opportunities for Founding Deans
Helping Students Find and Cultivate Community in Online Environments
Significant Changes for Fall 2020: Adapting to Budget Cuts, Enrollment Declines, and Other Challenges Beyond COVID-19
Deans and Executive Assistants: Working Together in the Time of COVID-19
Recent Topics for New Deans

NEW DEANS: Setting Up Your Office and Team
NEW DEANS: Framing the first Year
NEW DEANS: Key Campus and Community Allies
Recent Books for Deans by Deans

Intercultural Public Relations: Theories for Managing Relationships and Conflicts with Strategic Publics
Think About Crises and How You'll Handle Them Before They Happen
Organizing Academic Colleges: A Guide for Deans
How to Be a Dean
Leading with Uncommon Sense: Slowing Down, Looking Inward, Taking Action
Leonardo's Children: Stories on Creativity by Fine Arts Leaders that will Blow your Mind