Discussions for Deans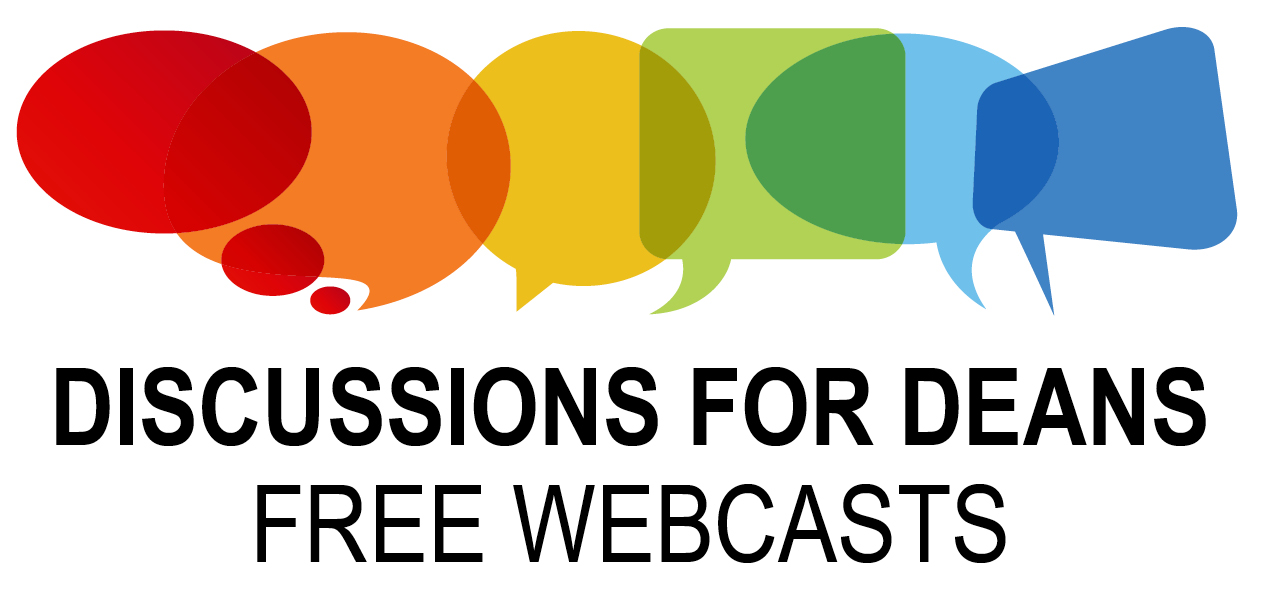 CCAS will continue our ongoing series of online discussions for the CCAS community to help support and guide us through this hectic time; no registration needed, no fee. All sessions will be held from 4:00-5:00 Eastern time via the same Zoom link. Check here frequently for additions and schedule changes based on speaker availability.

NOTE ABOUT RECORDING: Unfortunately, we cannot record the discussions in order to ensure a safe environment within which all can participate. Many deans are precluded from being recorded and additionally, we need to provide a space for candid discussion and reflection.
JOIN ZOOM MEETING: https://tamusa.zoom.us/j/82797153814

Discussions for Deans | 2023: Empowering Deans to Communicate & Connect
All sessions will be held from 4:00-5:00 Eastern time via the same Zoom link: https://tamusa.zoom.us/j/82797153814
Wednesday Sept 6 Deans' Communications Directors: Establishing a Community
Thursday Sept 14 Adapting to the Impact of Recent Supreme Court Decisions
Monday Sept 18 Communications Tools and Resources for Deans & Communications Directors
Tuesday Oct 3 Difficult Dialogues: Strategies for Success (Chairs also Welcome) supported by the Difficult Dialogues National Resource Center (DDNRC)
Monday Oct 9 Mediation Skills for Conflict Resolution (Chairs also Welcome)
Thursday Oct 12 When the Chair's Not There- Lessons Learned from Appointing Chairs from Other Departments (Chairs also Welcome)
Thursday Oct 26 CCAS Annual Meeting Networking
Thursday Nov 9 Critical Friends as Strategic Sounding Boards for Deans: Results from a Research Study
Monday Nov 13 Mentoring Programs for Marginalized and Underrepresented Faculty (Chairs also Welcome)
Wednesday Nov 15 Chat GPT for Deans- and When NOT to use it
Tuesday Dec 5 New Deans, Interim Deans, Associate Deans- Checking in (Breakout Rooms by category)
__________________
PAST SESSIONS:
Thursday, February 9: Checking in- Associate & Assistant Deans (Open Discussion)
Thursday, February 23: Academic Impressions—Survey Data Results
Monday, March 6: The Council of Social Science Associations: ADVOCACY
Tuesday, April 4: Time Management
Wednesday, April 12: Encouraging Civic Engagement (Hosted by AASCU)
Thursday, April 13: Academic Freedom, Tenure, Free Speech, and Inclusivity (Chairs also invited)
Monday, April 17: So You Want to Stay A Dean (vs advancing to more senior level)
Wednesday, April 26: Communicating In Crisis (or What Keeps You Up at Night) (Chairs also invited)
Monday, May 1: Deaning While Diverse: CCASConnect Community Launch
Thursday, May 4: Associate/Assistant Deans Listening Session
Monday, June 12: Advocating for the Humanities (Chairs also invited)