I AM CCAS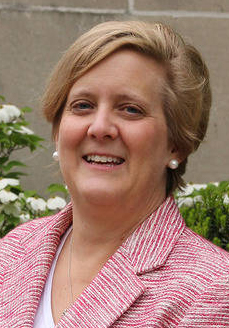 ELIZABETH KAVRAN
Current position: Dean of the School of Arts and Sciences at Ursuline College in Pepper Pike, Ohio.
Years as dean: I am starting my sixth year as Dean.
Advice for new deans:
If you can't find a solution, you are looking in the wrong place. Don't be afraid to be creative. Listen to and trust your team.
Most meaningful contribution as dean:
As Dean, I am the number one cheerleader for the students, faculty and staff in my School. I think the best contributions I have made to this institution have been the strategic creation of the new academic and support programs. As we make decisions we need to be aware that these decisions may have their impact several years down the road. I think the best deans are able to juggle all the moving pieces and parts of the job while keeping an eye on the future.
When you think about the liberal arts, what gives you a sense of hope? What makes you concerned or worried?
The first-time full-time students give me hope. Everything on campus is new to them. You can feel their excitement and eagerness for college and their future. Too often in the press we hear that the college students of today are apathetic. I would disagree. They want to make a difference in the world and we have an opportunity and obligation to help them find and craft their passion.They want to be proud of their institution and accomplishments. This is the reason I am teaching Anatomy and Physiology for Nursing students at 8:00 am.
I worry about the escalating cost of higher education. The students in our classrooms are facing challenges that transcend the classroom. We have students who are sleeping in their cars, do not have enough money for food, are deciding between child-care and buying a textbook. We would be naïve if we assumed these challenges are not part of the classroom experience. We need to address the challenges on our campuses, locally, regionally and at the national level.
Why she's a member of CCAS:
The reasons for my membership are numerous. I would say first and foremost, the mentors and friends I have made though CCAS have helped me be a successful Dean. Whether it is through the CCAS list-serve, phone, or email they are always willing to help. The support I have received is fantastic and I hope I have been able to pay it forward with other CCAS members. The CCAS case studies are epic. The case studies give us a chance to laugh, gasp and cry together.
What you might be surprised to know about her:
I am super competitive and I carry a deck of playing cards with me at all times.
What she does when not working:
I love working in my vegetable garden and making things in the kitchen. I will pickle, ferment or can almost anything.
How she keeps balance in life:
My family is the key. They keep me in check and remind me that when I die, my epithet will not read I was a Dean, it will read Mother, Sister, Spouse, and Friend. They are also always ready for a friendly competition.
Currently reading:
I am currently reading the recent Anisfield-Wolf Award winners. These awards recognize books that have made contributions to our society's understanding of racism and diversity.