I AM CCAS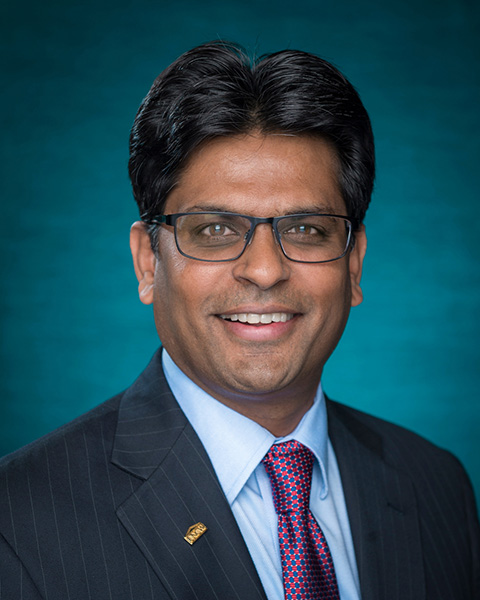 ASWANI VOLETY
Current position: Dean of the College of Arts and Sciences at the University of North Carolina Wilmington and Executive Director of the UNCW Center for Marine Science
Years as dean: I have been the dean of UNCW's College of Arts Sciences for four years. I was the interim dean of the College of Arts and Sciences at Florida Gulf Coast University for almost two years.
Advice for new deans:
1 – It is easy to get caught up on the day-to-day grind and focus on tactical issues. Remember, by now you would have realized that not everything is a "fire." Many of these issues take care of themselves. Focus on the big picture and think about the long-term vision for your college. Focus on the strategic plan and goals, and see what actions will result in making progress on these priorities and goals. 2 – delegate responsibility and empower people, they will be more invested and engaged; 3 – don't shy away from difficult decisions.
Most meaningful contribution as dean:
During my time as dean, our college has added several new programs (e.g. Ph.D. Psychology, M.S. Data Science, B.A. Digital Arts) or in the process of implementing new programs (e.g. M.F.A. Film Making, M.A. Film Studies, B.S. Coastal Engineering, B.A. Liberal Studies). These programs are designed to meet regional needs and improve the economic vitality of this region. In collaboration with my leadership team, we have increased post-graduate opportunities for our students. Establishing those programs and raising funds from the state as well as private donors to sustain and grow them has been my most meaningful contribution as dean.
What makes him concerned for the liberal arts:
The rhetoric that places the value of a technical or professional degree above that of a liberal arts degree is concerning to me. The narrative that liberal arts graduates have fewer occupational prospects is concerning. And it's false. Numerous surveys and employer feedback consistently note, in addition to technical skills, the need for graduates with oral and written communication skills, the ability to think critically and work collaboratively – skills the liberal arts teach. I think we are making progress in changing the perception of the liberal arts and getting better at conveying their value – both personally and professionally. We, as higher education faculty and administrators should do a better job highlighting the connection between essential skills students learn in various undergraduate programs as part of a sound liberal arts degree and their success in their future career.
Why he's a member of CCAS:
My former provost Dr. Denise Battles introduced me to CCAS. She thought I would benefit from the shared experience of other deans, and she was right. Since 2014, I have attended CCAS meetings, and I am enjoying learning from other deans and contributing my experience to the dialogue.
What you might be surprised to know about him:
In addition to my administrative responsibilities, I work with honors, M.A. and Ph.D. students on their scientific research projects. Working with students and continuing my collaborations all over the world not only keeps up my excitement but also keeps me grounded. This way, I also get a better appreciation for what it takes to be a faculty member and what they go through to maintain the balance between teaching, scholarship, and service. And, while my background is in marine science, I am equally passionate about the arts and humanities. I attend numerous arts and humanities events – not because I have to, but because I enjoy them.
What he does when not working:
I enjoy cooking, gardening, reading, and traveling.
How he keeps balance in life:
Well, that depends on whom you ask – my wife or me. I think I do a decent job, but my wife begs to differ. Kidding aside, I could improve my work/life balance, but spending time with my family and attending my daughters' sports events and music performances, keeps things in perspective for me.
Currently reading:
A Hope More Powerful Than the Sea by Melissa Fleming, The Far Away Brothers by Lauren Markham and When the Emperor Was Divine by Julie Otsuka. I just finished Kevin Kwan's Crazy Rich Asians series – you have to change things up sometimes.