RESOURCES for Attendees & Presenters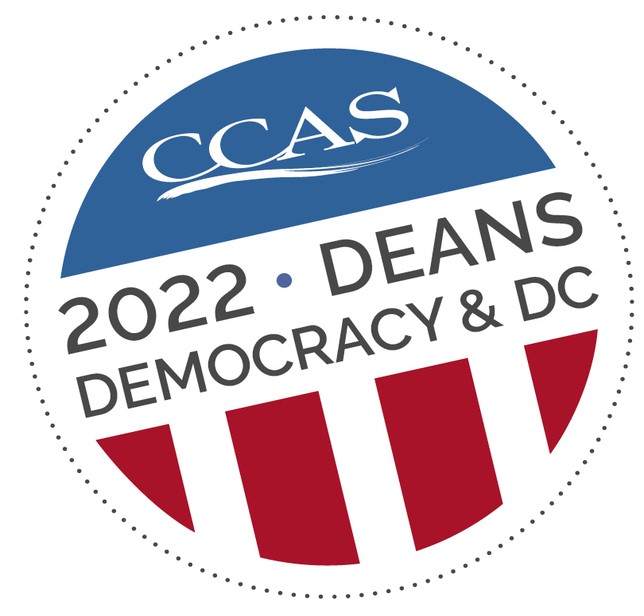 NOVEMBER 2-5, 2022 • JW Marriott Washington DC
Chair: Luis M. Falcón, University of Massachusetts Lowell
The theme of this year's meeting is Deans, Democracy & DC
The CCAS Annual Meeting is paperless;
the agenda, case studies, board candidate bios, and other resources
are available on this page and via the Whova event app.
WHOVA
You can download the free official Whova app for our event, using your preferred device you'll be able to:
View the event agenda and plan your schedule.
Plan ahead whom to meet at the event by browsing attendee profiles in advance.
Send in-app messages and exchange contact info.
Find attendees with common affiliations, education, shared networks and social profiles.
Receive updated materials, presentation slides, and links.
Access agenda, GPS guidance, maps, and parking directions.
Evaluate each session you attend.
Vote for the Board of Directors candidates and bylaws changes.
Volunteer for future committees and workshops.
Post photos and tweet about your experience.
After downloading, sign up on Whova with the email address that you used to register, or sign up
using your social media accounts. If you are asked to enter an invitation code to join the event,
please use the following invitation code: CCAS20222DC
JW MARRIOTT WASHINGTON DC
1331 Pennsylvania Avenue NW, Washington, DC 20004
800-393-2503

RESERVATIONS: The CCAS preferred group rate is $299.00 (single or double, plus tax).
Reserve accommodations or call 800-393-2503 and mention the 2022 CCAS Annual Meeting.
All reservation requests will require a credit card guarantee or one night's room deposit.
Deposits will be refunded for rooms cancelled more than 72 hours prior to arrival.
Name changes to room reservations may be made prior to arrival at no charge.
This hotel does not provide shuttle service.
NEARBY THINGS TO DO
HOTEL WEBSITE
VIEW MAP
DIRECTIONS TO DEAN'S RECEPTION
Thursday, November 3rd at Howard University
AGENDA
Complete Annual Meeting schedule with room numbers. Save or print (xx pages).
CASE STUDIES
Each year the Board of Directors solicits timely case studies for consideration and discussion in small groups during the Annual Meeting. Registrants will not be assigned a room; ample seating will be provided and individuals will go to a room with seating availability.
2022 Case Studies (Please read prior to Thursday afternoon Case Studies sessions)
BOARD OF DIRECTORS CANDIDATES
During the Annual Meeting we will hold an election via SurveyMonkey.
Each campus may submit one vote by 9:00am Friday.
Read About the Board of Director Candidates
View the Current Board of Directors Roster
Cast Your Vote (Opens November 2)
PRESENTATION TEMPLATE for presenters
BUSINESS MEETING INFORMATION
All of the materials regarding the Friday luncheon/Business Meeting (Financial Report, Member Report, and suggested bylaw change) are available here and on Whova. Paper copies will not be provided.
VOLUNTEER OPPORTUNITIES
Members who seek opportunities for professional service at the national level can stand for election to the Board of Directors; chair a standing or ad-hoc committee: organize a panel for the Annual Meeting; author a case study; or serve as a director or facilitator for a workshop or seminar.
Volunteer Form
THANK YOU TO OUR SPONSORS